Is your child's birthday quickly approaching? Are you looking for a way to make their party extra special? Well, come on down and test your wits in our FUN HOUSE!
An escape room is a great birthday party idea because they are an interactive group experience that emphasize and strengthen many skills including teamwork, communication, and problem solving, while still being an entertaining and immersive game.
The Fun House is a topsy-turvy experience filled to the brim with laughs, mystery, magic, and excitement! You and your team must work together to find clues and solve puzzles before time runs out. The light-hearted nature of the game makes it an ideal party destination, full of puzzles that allow groups to work together or break into smaller teams.
If your team consists of young children with dreams of being magicians, have no fear! The Fun House KIDS provides the same whimsical fun and puzzle solving experience but is an alternate version designed for younger players between the ages of 8 and 13-years old. However, it is never too early to send your children off to the circus and children of all ages can play the game! We've added some hands-on puzzles to this version of the game so that everyone, no matter what age or height, will have something to do.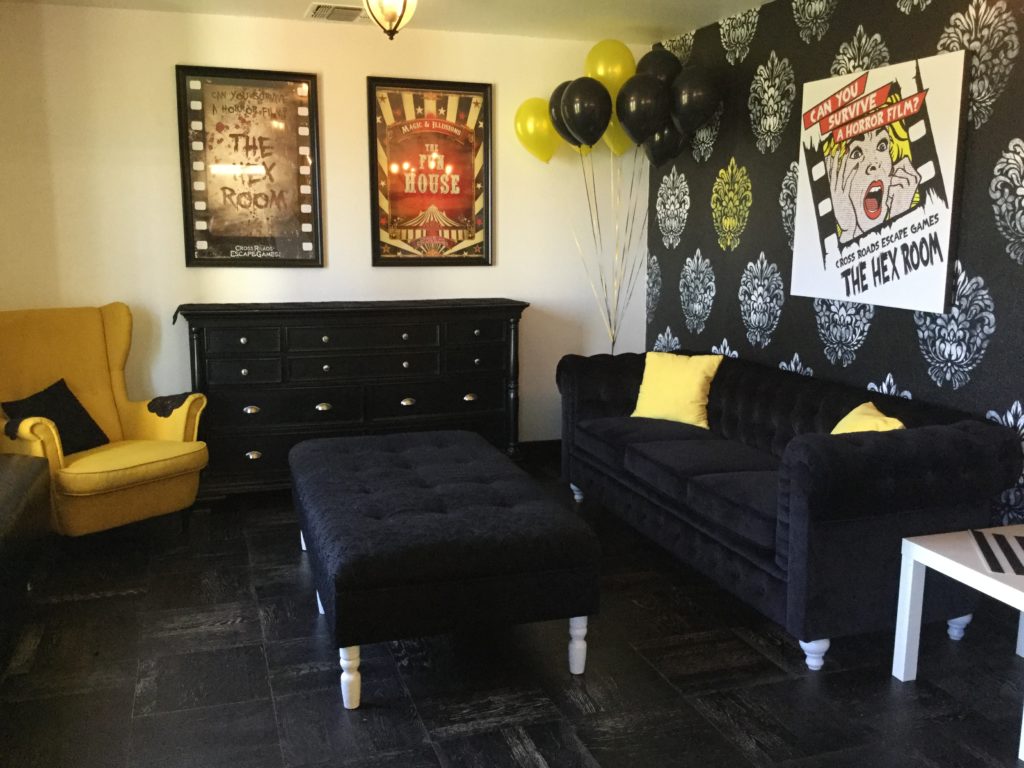 What could be better than running off to prove yourself at the circus? Why, how about a party afterwards! Cross Roads Escape Games offers a beautiful lounge that is a comfortable, private space where your group can unwind, talk about their experience, eat some cake and ice cream, and open presents. Along with the lounge rental, we can provide cups, plates, napkins, utensils, balloons, and even take care of clean-up.
Speaking of food, what could possibly go better with a birthday party than pizza? If you need catering for your party, we offer a special escape room package from Top Class Pizza that includes three Large 1-Topping Pizzas, two 10" cheesy bread sticks, two 10" cinnamon sticks, and two 2-liters of soda.
Parents love having their child's birthday party at Cross Roads Escape Games because they know the kids will have a great time interacting and using their brains and not being distracted by phone screens. Kids love escape room birthday parties because they can be clever, solve puzzles, and win prizes in a unique experience. If you're looking for something out of the ordinary for your child's next birthday, try the Fun House for a truly memorable party.
The Fun House and Fun House KIDS is for 4-8 players and is one-hour long. If players are 13 years or younger, they must be accompanied by an adult in the game. Both of our games are private games, meaning your group will not be paired with strangers. Our lounge is available to rent for an extra fee and comfortably fits up to 13 adults. We also do bachelor parties, proposals, baby announcements, and other celebrations! If you have any questions about parties at Cross Roads Escape Games or you would like to book your party, give us a call at (714) 572-1004.
Geoff Durham
Manager, Game Master, Party Animal
Cross Roads Escape Games