This is our BIGGEST BLACK FRIDAY SALE EVER! We love Black Friday sales and this year we have the perfect Escape Room Gift ideas! 
1. 20% off Gift Cards
Now until 12/02/19 use the code BLACKFRIDAY19 to save 20% off all gift card purchases! Include a maze puzzle case for $5. This code can only be used on new transactions and cannot be combined with any other offers. This code is not valid for the Escape Room Puzzle Gift Box. BUY HERE!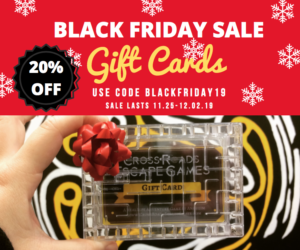 2. Escape Room Puzzle Gift Box- $99
The retail value is $120, but get yours for only $99! This puzzle gift box is a perfect gift to or from any escape room enthusiast! It includes: A gift card pre-loaded with one ticket ($37) in a maze puzzle case. 1 Hex Room T-shirt (Men's or Woman's sizes S-XXL). 1 Cross Roads pen. 1 gold cryptex with an exclusive puzzle and bonus prize. Gift wrapped in a gold box and red or blue bow.  Puzzle Gift Box is already sold at a discounted value, Black Friday codes are not valid for this item. Only 20 available! Get yours while supplies last! BUY HERE!
Check out our unboxing vide to see what's in the box! 
Wishing everyone a fun and safe holiday from Cross Roads Escape Games!