Hey everyone! It's Madison. I am the co-owner, along with my husband Luke, of Cross Roads Escape Games. It's a weird time right now for everyone. Businesses are shut down and everyone is forced to stay inside.  Everyone's brain is going a little crazy because it is not getting its normal amount of stimulation or problem solving that it is use to. At least, that is how I feel.
I am the proud owner of a lot of board games. A LOT. So, if you need some activity in your life, here are a list of games I think anyone will enjoy!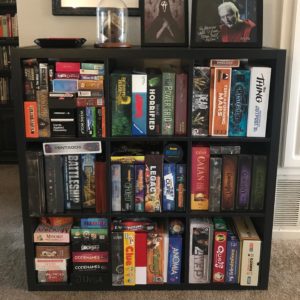 I'm not too sure how many people or who you are quarantined with so I have given some guidelines as to who I think the games would be good for as far as age, group size, and complexity is concerned.
Let me know what you think! I would also love to hear of any board games you have been enjoying that I should add to my shelf.
1. SURVIVE! Escape from Atlantis
Ages: Kids, teens, and adults will all equally love this game.
Group size: 2-4
Complexity: Easy. You can learn it in 5-10 minutes.
BUY HERE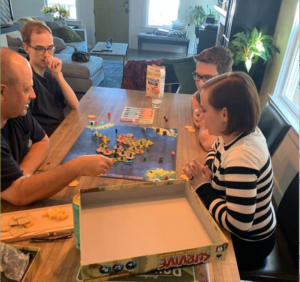 Survive! is super easy to learn, which makes it great for any age. I've played this game with my 7-year-old nephew, my husband, my siblings, and my parents. Seriously, it's great for everyone. The game is pure chaos. But fun chaos.
About: "In this game, you try to lead your people from the sinking central island of Atlantis to the safety of one of four islands nearby. Your people can get there quickly by boat (if they find one) or more slowly by swimming. But it will be a perilous journey as they must avoid Sea Serpents, Whales, and Sharks."
2. The Game
Ages: Kids, Teens, and Adults
Group Size: 1-5
Complexity: Easy
BUY HERE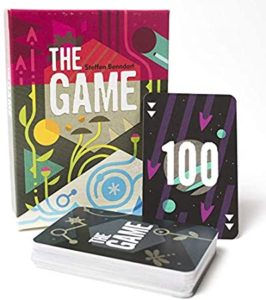 This is technically a card game, but I like it so much that I actually carry it with me in my purse. The game is simple, but hard to win. Every time you play, you get a little better and better.
About: "Cooperative game that involves hand management and memory. You'll have to work together with your friends to play cards into one of four different piles, with the hopes of discarding all 98 cards in ascending or descending order. The trick is, you aren't allowed to tell anyone else what cards you have, so you'll constantly be on edge as each card played could upset your best-laid plans."
3. Codenames
Ages: Teens and Adults
Group Size: 4-6
Complexity: Easy
BUY HERE

I played this game last night with my whole family. Before you yell at me about social distancing, let me add that we were all in our own homes communicating through video! This game was pretty easy to play virtually, and you only need one person who owns the game. The Codename owner lays out the cards to create the playing board and takes a picture and sends it to everyone.  From there you can look at the picture/board and make marks on it using the writing tool on your phone to mark what agents have been found. It was pretty easy, and a great way to spend time with family while physically apart.
About: "The teams compete to see who can make contact with all of their agents first. Spymasters give one-word clues that can point to multiple words on the board. Their teammates try to guess words of the right color while avoiding those that belong to the opposing team. And everyone wants to avoid the assassin."
4. Pandemic
Ages: Teens and adults
Group size: 2-4 (I recommend just 2)
Complexity: Medium
BUY HERE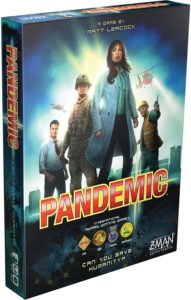 What better game to play right now then Pandemic? This is a great game to introduce people into the more complex games out there. Once you know the rules, the game is easy to grasp, but hard to win. I recommend playing with only 2 people, although you can have up to 4.
About: "Four diseases have broken out in the world and it is up to a team of specialists to find cures for these diseases before mankind is wiped out. Players must work together and plan their strategy of eradication before the diseases overwhelm the world with ever-increasing outbreaks. A truly cooperative game where you all win or you all lose."
5. Catan
Ages: Teens and Adults
Group Size: 3-6 (you will need the 5-6 player expansion for more people)
Complexity: Medium
BUY HERE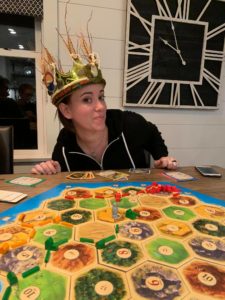 This is a classic game. If you haven't played Catan yet, what are you doing? The description does not sound that interesting, trading resources sounds kinda lame, I get it, but this game is a lot of fun. Trust me. Every time that dice is rolled and its one of your numbers, you get an instant boost of endorphins and you feel unstoppable. My family loves this game so much, we have even created a Catan crown, that the winner wears, until they are dethroned of course. 
About: "Your adventurous settlers seek to tame the remote but rich isle of Catan. Get resources from Catan's many harbors and regions: pastures, fields, mountains, hills, forests, and desert. Build your cities and rule of all Catan!"
6. Carcassonne
Ages: Teens and Adults
Group Size: 2-5
Complexity: Medium
BUY HERE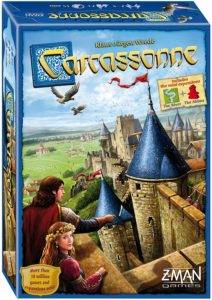 What I love about this game is that the board is constantly changing. It's one of the few games where you get to create the board piece by piece, which also makes it completely different every time you play!
About: "Each new tile placed creates an ever-expanding board on which players can then add their followers.
As the map grows, so does the opportunity for players to disrupt each other's plans. Everyone is adding to the same map and only one follower can be on any given feature at a time—so if you don't place a follower on something, someone else probably will."
7. Ticket to Ride
Ages: Teens and Adults
Group Size: 2-5
Complexity: Medium
BUY HERE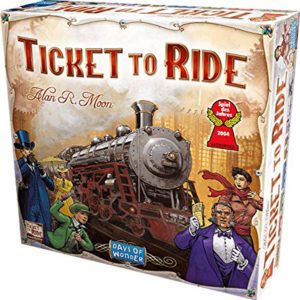 I was a little skeptical of this one at first, but it ended up winning me over after the first game. It is a lot like building roads in Catan, but with a lot more strategy.   
About: "Players collect cards of various types of train cars they then use to claim railway routes in North America. The longer the routes, the more points they earn. Additional points come to those who fulfill Destination Tickets – goal cards that connect distant cities; and to the player who builds the longest continuous route."
8. Pandemic Legacy Season 1
Ages: Teens and adults
Group Size: 2-4 (I recommend just 2)
Complexity: Difficult
BUY HERE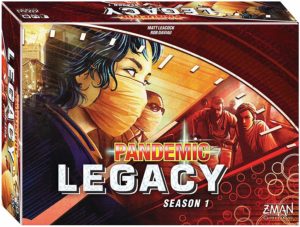 If you play Pandemic and you love it as much as I do, make sure to also check out Pandemic Legacy. Legacy games are really cool and really different. Every time you play, the choices you make and their outcomes affect the next time you play. There are stickers you put on the board that help you remember what happened last time, there are mystery boxes the game tells you to open up at certain times revealing new game pieces and new rules. Sometimes you even tear up cards and you can never use them again! Pandemic Legacy is mind-blowing, and a must play in my book.
About: "The world is on the brink of disaster. In Pandemic Legacy, your disease-fighting team must keep four deadly diseases at bay for a whole year. Each month will bring new surprises, and your actions in each game will have repercussions on the next. Will you let cities fall to the diseases? Will your team be enough to keep the viruses at bay for a whole year? Craft your own unique Pandemic experience with Pandemic Legacy."
9. Terraforming Mars
Ages: Teens and adults
Group Size: 1-5
Complexity: Difficult
BUY HERE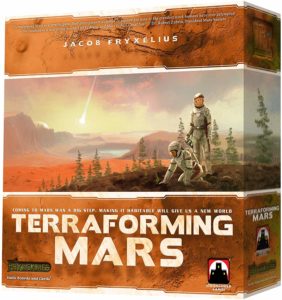 I want to preface by saying this game was hard to learn. We were intimidated by the rule book, so we ended up watching a 30-minute video explanation of the rules instead, which helped a lot. Once we knew the rules, the game was easy to get started. It is a lot like deck building games, but you also have a game board. It seems intimidating, but the cards you play tell you exactly what to do. If you are up for a challenge and like complex board games, I highly recommend this game. Once we learned it, it ended up being a lot of fun.
About: "In the 2400S, mankind begins to terraform the Planet Mars. Giant corporations, sponsored by the world government on earth, initiate huge projects to raise the temperature, the oxygen level and the ocean coverage until the environment is habitable. In Terraforming Mars you play one of those corporations and work together in the Terraforming process, but compete in doing the best work, with victory points awarded not only for your contribution to the Terraforming, but also for advancing human infrastructure throughout the solar systems and other commendable achievements."
10. Power Grid Recharged Version
About: Teens and adults
Group Size: 2-6
Complexity: Difficult
BUY HERE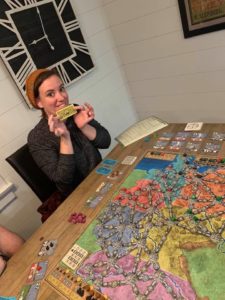 Power Grid Recharged has all the strategy and fun of the classic first edition, but adds some updates that improve the (already great) gameplay. This game is also a little hard to learn, but what I loved about it was that it didn't involve any reading, but it does have a lot of math. I recommend having a calculator nearby to make it easier. What is so great about this game is that it constantly makes the board an equal playing field for everyone. If you are doing good and you are in first place, the game gets harder, if you are in last place, the game gets easier. It adds a new strategy of maybe not advancing in order to stay low on the score board and receive better prices. This game involves hard core strategy, which is what I love.
About: "What better way to earn money than with electric power?!! But how should you do it? However you decide to generate the energy, you'll have to compete with your opponents not only for the most attractive power plants, but for the necessary resources and the sites to build your network of energy distribution. You'll need to watch your opponents closely, carefully manage your money, and expand your network thoughtfully in order to generate income. The player that is able to build the largest network AND successfully power it will be the winner."
And that is my list for the top 10 games I am playing right now in quarantine. Let me know what games you are playing, or if you have played any of the games on this list yet! I hope some of these games make time go by a little faster, and that you continue to stay inside and stay healthy!