Coming soon! Follow our social media for updates!
In the meantime, please check out some of our other games: The Hex Room or The Fun House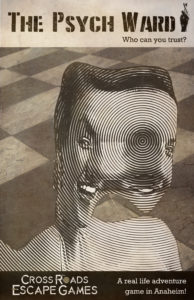 About-
Theory: If put in a controlled environment, some patients will exhibit more psychopathic symptoms than others.
Hypothesis: Patients will lie, betray, and manipulate their friends to get what they want.
Experiment: Two groups will be placed in a controlled room with challenges and rewards. To succeed, test subjects must outwit the other participants to recieve the most rewards. Truth is unreliable. Trust must be established. Betrayal is necessary.
Difficulty- Every game will have one winning and one losing team.
# of Players- 4-8. This is a PRIVATE game. We will not put your group with strangers.
Ages- This game is for ages 16+.
Opening– TBA
CHECK OUT OUR TEASER TRAILERS HERE
MAKE SURE TO SUBSCRIBE TO OUR YOUTUBE CHANNEL AS WE REVEAL MORE TEASER TRAILERS AND CLUES FOR A SPECIAL PRIZE!
Sign up for our newsletter below to be notified when this game becomes active
Stay Updated
On New Games