Coming soon!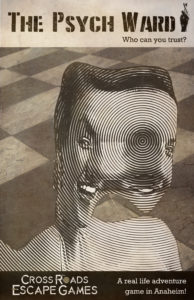 A Strategic Game of Trust and Betrayal
About- Sane or Insane? Trust or Betray? These are the questions Dr. Griffin wants you to answer. He has created a social experiment for a select group of patients. Some of these patients he believes are sane, others, completely insane. Like lab rats, he has put you inside his twisted experiment and challenges you to figure out who to trust and who to cross. But can even Dr. Griffin be trusted?
Difficulty- Every game will have one winning and one losing team.
# of Players- 5-8. This is a PRIVATE game. We will not put your group with strangers.
Ages- This game is for ages 16+.
Opening–  TBA
CHECK OUT OUR TEASER TRAILERS HERE
Enter your email
to be notified when this game is accepting bookings.