Cross Roads Escape Games is back at Midsummer Scream this year with a BRAND NEW MINI-GAME! If you loved our previous mini-game, The Asylum, you can't miss THE BOX. 
In the 1970s, Hydrotherapy treatments consisted of placing patients in baths or steam cabinets for extended periods of time, sometimes days, to treat various conditions or simply to calm patients down. We are bringing back those frightful days with our newest experience.
One player will go inside THE BOX while an orderly locks them up to prepare for their 10 minutes hydrotherapy treatment. The doctors are hoping this treatment helps calm you and heat the crazy right out. It has not been successful on the last patients, so this time they are upping the temperature. The temperature starts to rise to a deadly level; luckily you have some friends on the outside that are there to help you get out before you are cooked alive!
This game is set in the same world as our newest hour-long game, The Psych Ward. If you haven't played that yet, make sure you do soon!
Tell everyone you are going by RSVPing on our facebook event.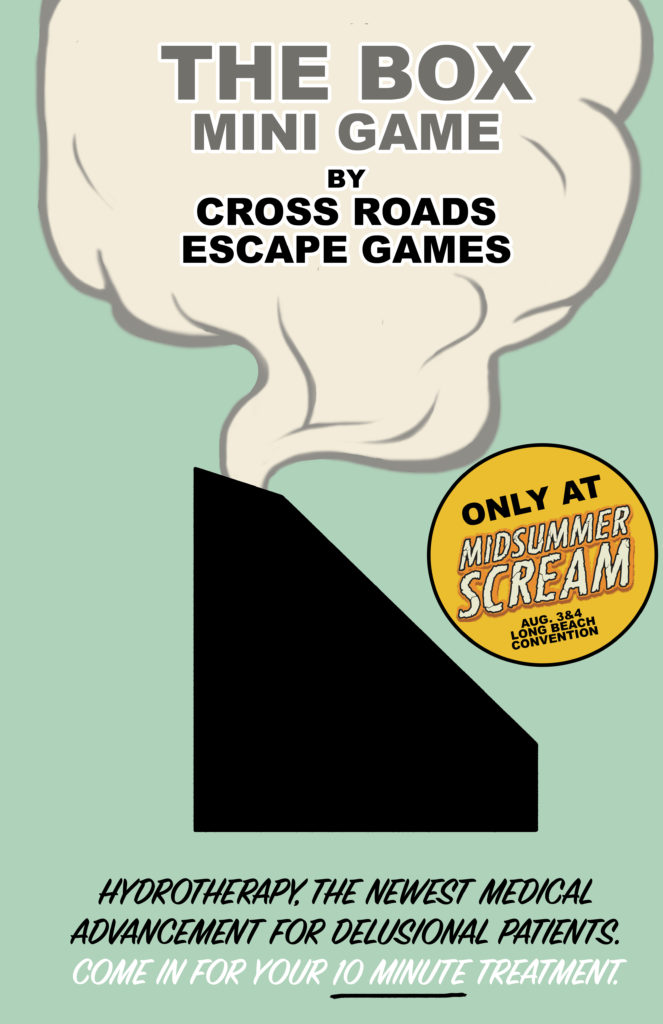 Where can I play this awesome mini-game?
Where: Midsummer Scream Halloween Convention at the Long Beach Convention Center. Booth 518.
When: August 3rdand 4th, 2019
Game length: Up to 10 minutes.
Number of Players: 3-5. Only one person is required to go inside the box, the remaining 2-4 players will be on the outside.
Tickets: This game is FREE with the purchase of a ticket to Midsummer Scream. Use the promo code ESCAPE for 20% off your general admission tickets.
Sign ups: Guarantee yourself a chance to play by getting to the convention early and signing up for a time slot! Space is limited and is first come first served.
About Midsummer Scream: The largest Halloween and horror fan convention in the world, returns to Southern California August 3-4 for a monstrous weekend of thrills, chills, and haunting fun. For the first time, Midsummer Scream will occupy the entire Long Beach Convention Center, doubling the show's size for 2019. This year promises to be the best yet, with an eerie and cool dark tiki theme, the return of industry giants like Universal, Knott's Scary Farm, Dark Harbor, and Fright Fest, plus plenty of vendors, seminars, shows, and scares!