USA Today is having another contest for Top 10 Best Escape Rooms in the Nation. We are nominated along with 19 other amazing escape rooms all across the U.S. Help us stay in the top 10 by voting once a day until Aug. 30th.  Voting only takes a click!
You can vote for us HERE. 
VOTING ONLY TAKES A FEW SECONDS. NO SIGN-UP OR EMAIL IS REQUIRED! YOU CAN VOTE ONCE A DAY UNTIL THE CONTEST ENDS ON MONDAY,  AUGUST 30TH AT NOON.
We were nominated in 2017 & 2018 and ended up ranking in the top 10 list! Below you can see me holding up two trophies from our past wins. This is the 3rd time we have been nominated, and we are determined to keep a 100% track record! Help us take 2021 by voting every day!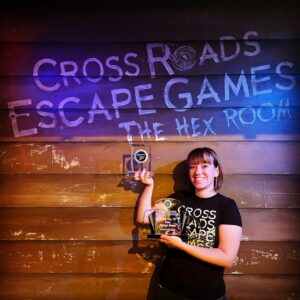 Thank YOU for your support and your help in the past with this contest! Our fans are amazing and we would not have survived 2020 if it was not for you!