Are you looking for a thrilling experience that will test your team's wit, communication, and teamwork? Perhaps you are looking for an event that will allow your team to bond by working together to overcome obstacles? Or maybe you are just trying to be the coolest boss in the world. Either way, Cross Roads Escape Games offers a fun and exciting take on team building that will engage and excite every member of your group.
Our games offer unique challenges to test team cohesion, communication, critical thinking, and creative problem solving. With two different themes, we can offer two different experiences sure to thrill and include everyone on your team.
The Fun House is a kooky non-linear game that emphasizes the importance of team work, time management, and communication while brainstorming creative solutions to new challenges. Everyone starts out in a topsy-turvy room filled with hidden clues, optical illusions, and tons of puzzles that can be solved in any order. It is up to you and your team to work together to make heads or tails of all the clues and prove yourselves as Magnificent Magicians!
In The Hex Room, your team is split into six different rooms based on a personality test that is taken before the game starts. The Hex Room has an intense atmosphere and each room is designed to make the player feel like they are the star of their own horror film. It is imperative that your team works together and learns to communicate through the physical barriers separating them. Employing a clever use of stress and isolation, The Hex Room highlights the strengths and weaknesses of each team member.
Both rooms are designed to test your team's communication and problem solving skills while also revealing a team's true dynamic. In the Fun House, players are exposed to wacky ideas and are forced to think outside the box. Each player must add their brainpower to the group to find the solution to a challenge. In the Hex Room, communication becomes paramount and failing to do so could have dire effects. In both rooms, the dynamic of the group will become apparent; Natural leaders will rise to the occasion to lead their teams to victory and team cohesion will form around those leaders.
The Hex Room and The Fun House are both excellent tools for team building that allow players to identify their own strengths and weaknesses.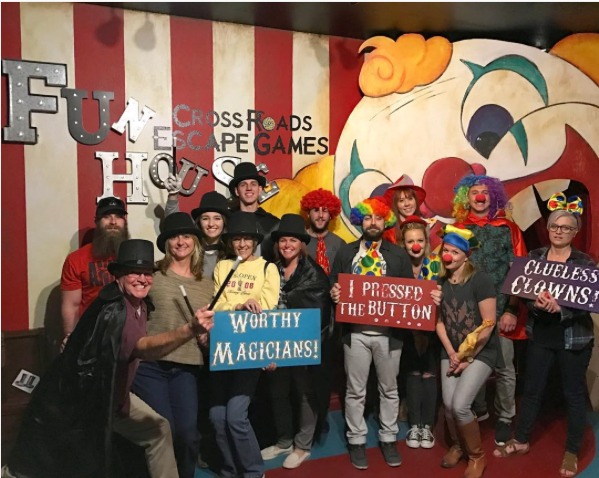 Often, it isn't until someone is put to the test that they realize their strengths to cultivate or the weaknesses that they can mend. It is through these fun and thrilling adventures that people discover their desire to lead.
Team Building here at Cross Roads is a thrilling experience for everyone. We have a friendly and enthusiastic staff that can offer a wide range of team building services including Game Master talk backs. During these talk backs, your game master will sit down with your team after the game to discuss the group's strengths and shortcomings. They will offer advice on how to improve team work, communication, and overall cohesion.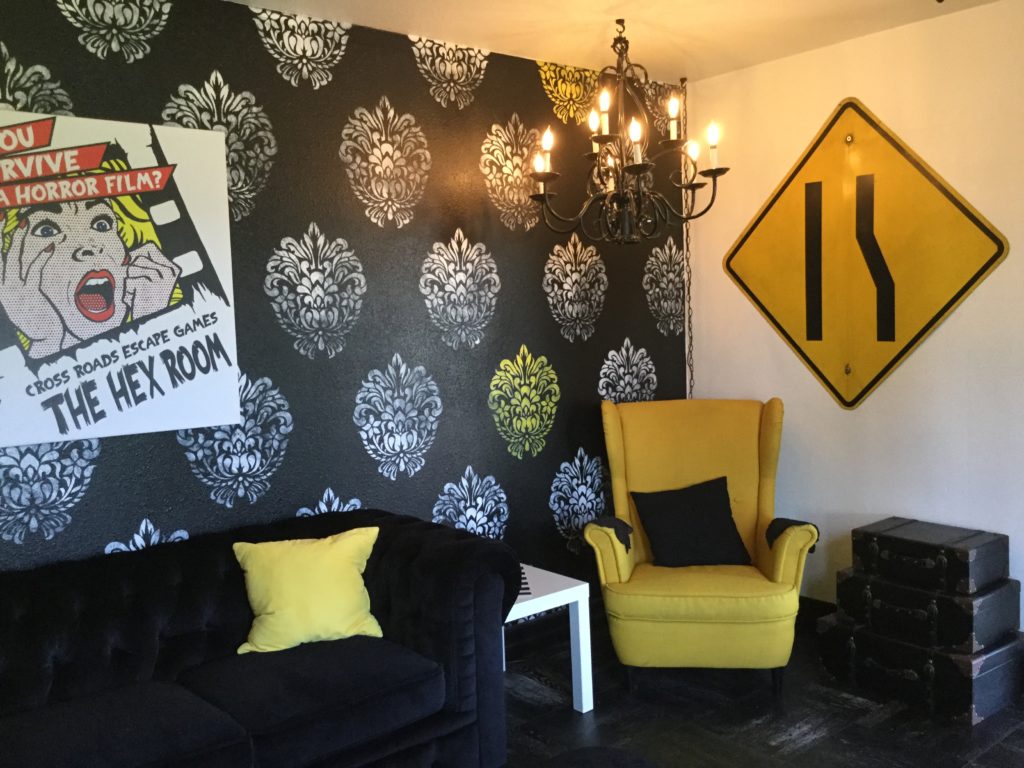 If you want a truly memorable and exciting way to discover your team dynamic, want to strengthen critical thinking and problem solving, or are just looking to take your team out for a fun and thrilling bonding experience, Cross Roads Escape Games can help with top-quality games and engaging experiences. For more information on what we can offer for your next team building outing, check out our team building page.
Jason Sakal
Manager and Game Master
Cross Roads Escape Games