If you have made it down to Cross Roads Escape Games, you may have noticed the fun poppy art of Dan Litzinger for sale on the wall, or on your very own Hex Room t-shirt! Dan Litzinger is a painter and film editor living the dream in beautiful Glendale, California. Originally from Atlanta, Dan discovered his love for painting and pop art while attending the prestigious Savannah College of Art and Design and Graduated Magna Cum Laude in 2003.  His addition to popular fiction and film leads him to create simple but bold art based on his passions. A frequent contributor to the Los Angeles group art exhibit scene, he loves to bring a retro cool and fun energy to works that revel in his storytelling fetish.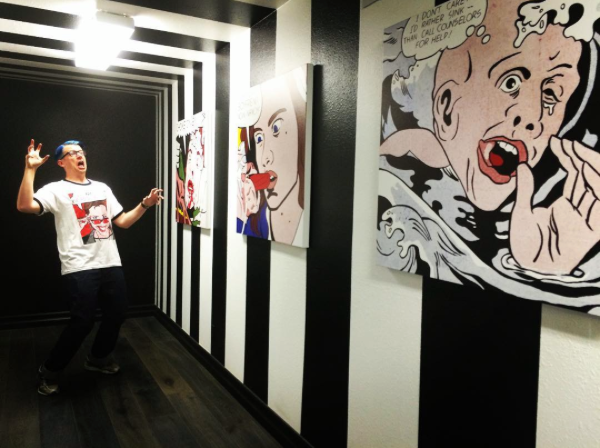 Litzinger's fun horror themed paintings are a perfect complement to the games at Cross Roads. We always hear such high praise for Litzinger's art when guests come in, so we sat down with him and asked him some of the common questions we hear among our players.
CREG: What got you interested in art?
DL: Starting in first grade, I dreamed of being a newspaper comic strip artist.  Then in seventh grade, an art teacher (Ms. Kimberly Robinson!) showed me Roy Lichtenstein's work and that was a real game changer for me.  Comics were "real art" in museums!  I got my Bachelor of Fine Art from Savannah College of Art and Design with a major in Film/Television and I've been a working editor for 8 years.
CREG: Why do you focus on horror?
DL: I've been interested in horror from a young age – probably too young, because my older brothers would show me movies that were a bit too scary for me.  But I loved and still love the feeling of being scared in the theater, when you know you're in a safe place.  I do believe in ghosts, so I'm a real sucker for haunted house movies.
CREG: What about pop art inspired you to create these paintings?
DL: The first large painting I did was a direct parody of Lichtenstein's "Drowning Girl" painting, but with young Jason Voorhees drowning instead.  I just thought it was funny and I hadn't seen it done before.  I took the painting around Monsterpalooza and it got such a great response, I continued working on pop art paintings of films.  I've had my own booth at Monsterpalooza for a couple years now!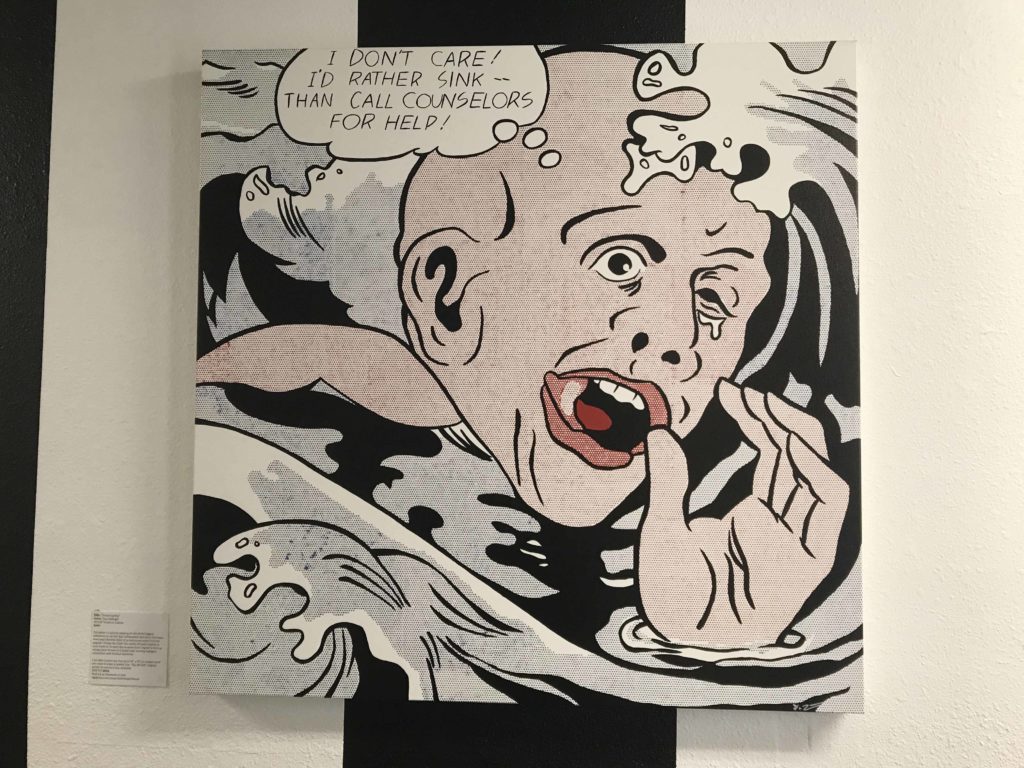 CREG:What is your favorite type of horror?
DL: Slasher.  They're generally very simple and visceral.  The creativity comes from the kills and that's what brings the audience in, even though you should be rooting against the villain.  I think sometimes horror films are a safe way of dealing with real life horrors we see on the news.
CREG: What is your favorite movie and/or director?
DL: My favorite movie of all time is Die Hard.  But for horror it's Sam Raimi's "Evil Dead 2."  For me, it strikes the absolute perfect balance between horror and comedy.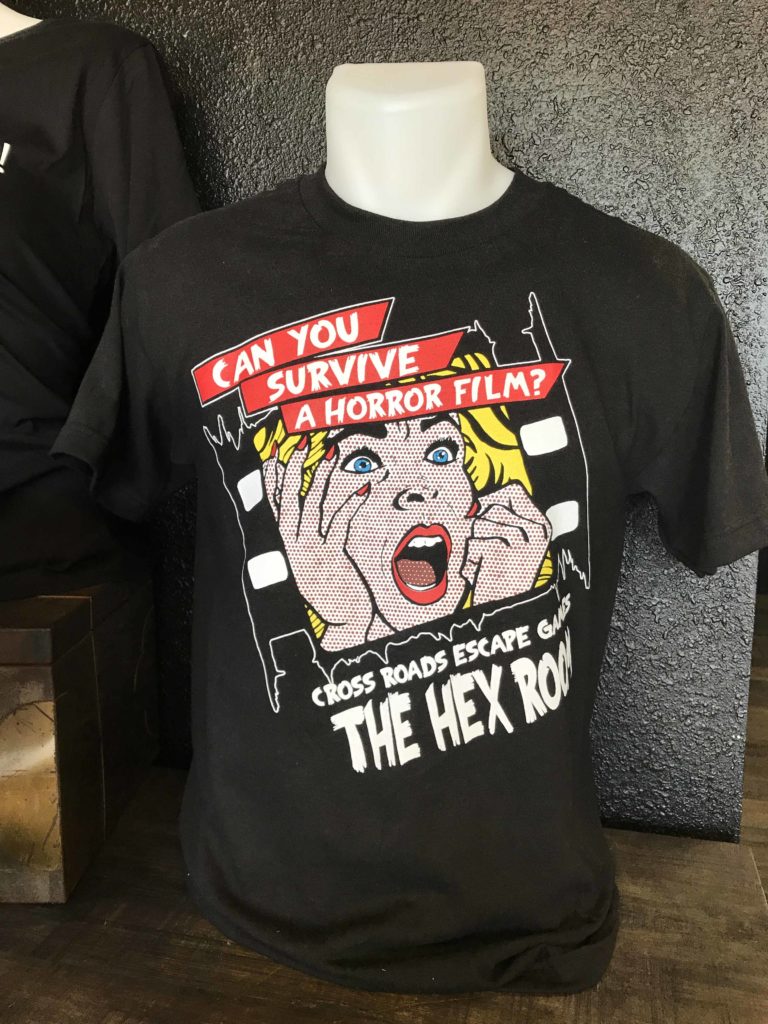 Dan Litzinger's art and t-shirts are for sale on his website HERE or at Cross Roads Escape Games. Litzinger also is the designer behind our popular Hex Room t-shirts available in both men's and woman's styles sold only at Cross Roads Escape Games in Anaheim. Dan updates his art at our location, so make sure to stop by and see some of this amazing pieces in person! We currently have the original Twilight Zone "You Unlock This Door With The Key Of Imagination" showing in our lobby and available for $425. All proceeds go straight to the artist.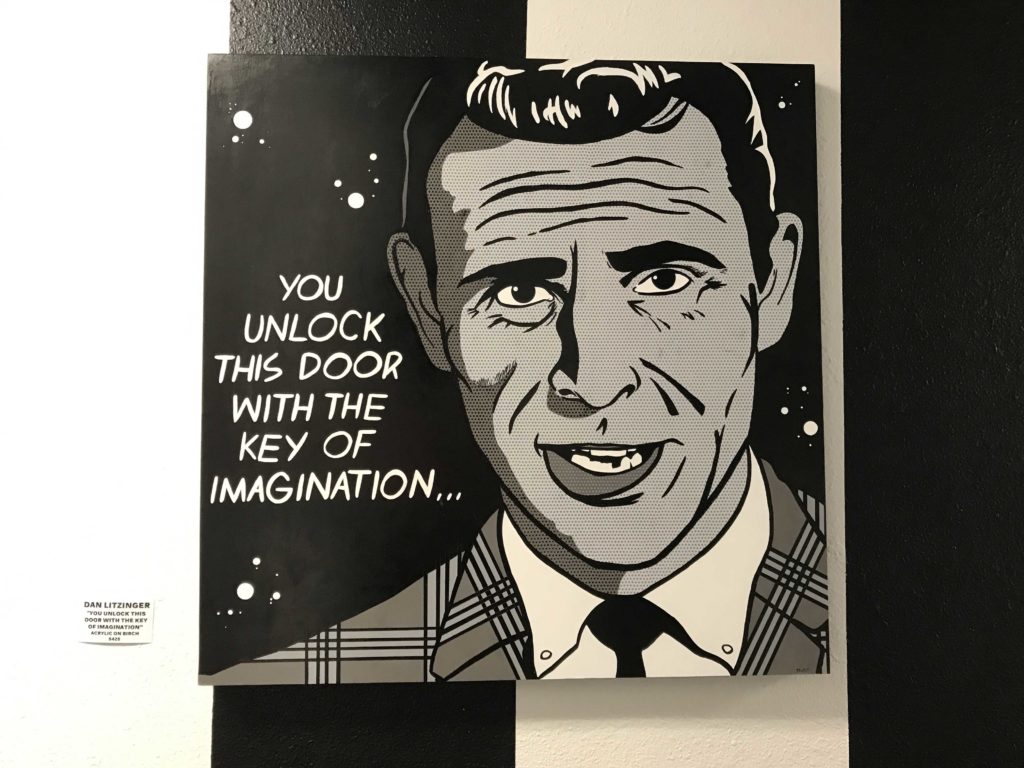 Madison Rhoades
CEO, Co-Owner, & Creative Director
Cross Roads Escape Games