"There is something up in those woods. Something that brings things back. Sometimes dead is better," warns Jud Crandall in the trailer for the upcoming film Pet Sematary.
I cannot tell you how excited I am to see the new Pet Sematary. Starry Eyes, the first film from directors Kevin Kölsch and Dennis Widmyer, is one of my favorite horror films ever and from the moment I heard they were taking the helm of adapting Stephen King's book, I knew we would be in for a dark and twisted treat. The film has already been receiving rave reviews after its screening at SXSW.
We here at Cross Roads are huge fans of horror. Every day we get to see people live out their very own horror flicks in The Hex Room. The Hex Room is a unique escape room because it is designed to be replayable. Before your game you are cast as either the Detective, Jock, Rebel, Prom Queen, Nerd, or Virgin. You are then placed into individual rooms within the game where it is your team's job to communicate and escape the individual rooms to come together and escape the game in its entirety. Furthermore, teams are able to leave some players behind. Of course, this leads to a difficult game and often leaves us with a few casualties along the way. Don't be disparaged, however; sometimes, dead IS better.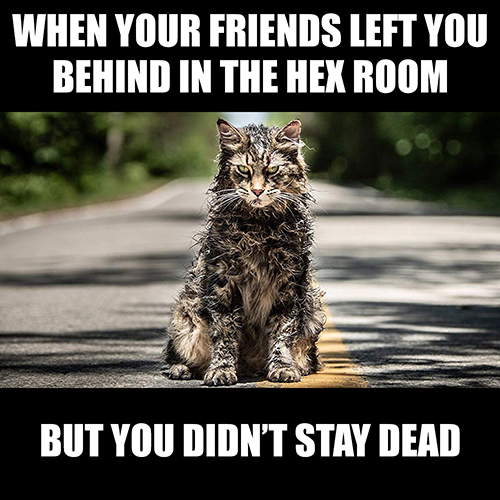 Dead Is Better
If you don't escape your first try at The Hex Room (or if your group left you for dead), there are a few upsides to experiencing a horror movie death.
• You are now familiar with the gameplay. This will allow you to know just how much communication and teamwork the game requires.
• You will most likely have more time to focus on your Hex Box so you survive the horror flick.
• You are now the scariest thing in the room.
Promoters of Pet Sematary teamed up with Cross Roads Escape Games to offer players some merch. Anyone who plays one of our games can reward themselves to a Pet Sematary poster.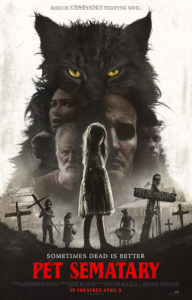 For those cunning enough to escape and survive The Hex Room with all SIX survivor medallions, the group will win a Pet Semetary flashlight while supplies last.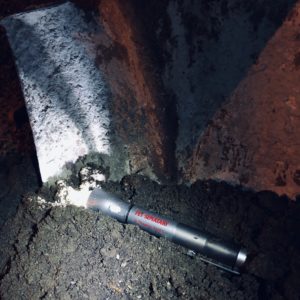 See if you have what it takes to survive a horror film with The Hex Room at Cross Roads Escape Games. And don't worry. If you don't make it out alive, we know how to bring you back. Prizes available while supplies last!
Watch the Pet Sematary trailer below!
About the movie: Based on the seminal horror novel by Stephen King, Pet Sematary follows Dr. Louis Creed (Jason Clarke), who, after relocating with his wife Rachel (Amy Seimetz) and their two young children from Boston to rural Maine, discovers a mysterious burial ground hidden deep in the woods near the family's new home. When tragedy strikes, Louis turns to his unusual neighbor, Jud Crandall (John Lithgow), setting off a perilous chain reaction that unleashes an unfathomable evil with horrific consequences. In theaters April 5th, 2019.
Geoff Durham
Game Master, Manager, Would Pet Church the Cat
Cross Roads Escape Games