We are excited to announce that our newest game, The Weeping Witch, is now open! Stepping back to their horror roots, owners Luke and Madi decided to offer fans a game that is not only fun and theatrical but also scary. Though I was able to work on small parts here and there (primarily graphic design elements and lending a helping hand with construction), I didn't know much about the game before playing. Here is my review of The Weeping Witch: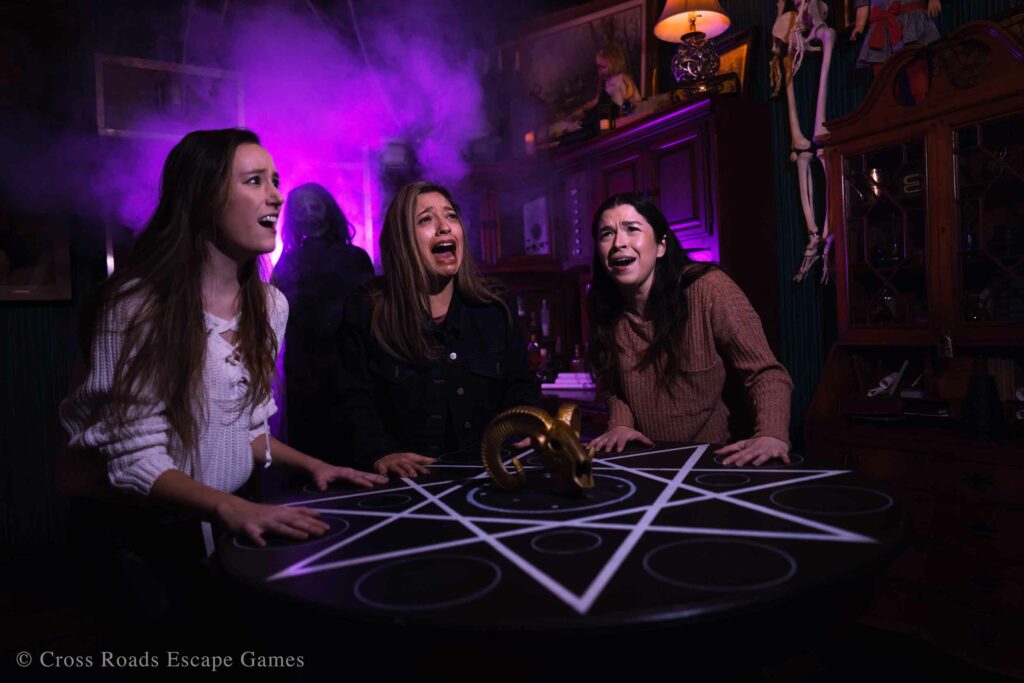 Before I get started, I must point out that I grew up participating in haunts. I have over a decade of scare actor experience, and I love haunted houses, other scary experiences, and escape rooms.
A spiritual successor to the limited-run, immersive theatre experience from 2019, The Séance, The Weeping Witch is an entirely new and separate story with nods to The Séance for those in the know. In The Weeping Witch, you enter Ruby's study to rid yourself of your family's curse. Things quickly take a turn when you learn that Ruby has accidentally released a monster who mimics the sound of a woman crying to lure its victims into the dark, where it eats their souls. With only an hour before the witch has finished feeding on your souls, your group must work quickly to reassemble Ruby's Curse Extraction machine. But the witch isn't going down without a fight.
The room has a great blend of analog and electronic puzzles, each puzzle themed perfectly to fit into the room. The ghostly effects throughout the game help further immerse the player and add an extra sense of wonder.
We played The Weeping Witch with a group of 5. I think this was a good number of players because everyone could work on something in the room, but we weren't feeling rushed more than the usual pressure of an escape room. This also allowed our more scared players to hide behind the braver ones (me) when the scarier parts of the game started. I would recommend larger groups if your group is full of scaredy cats so you have enough functioning hands and brains to solve puzzles. More advanced players or players looking for more personalized scares might want to stick to smaller groups of 4 or 5 players.
As stated, I am a horror fan and never hesitate when scary opportunities present themselves. That said, I found the encounters with the witch to be pulse-pounding and intense but fun. I had a smile on my face the whole time as the rest of my team was cowering behind me. These encounters were more than jump scares; they were story moments that served a purpose in the game.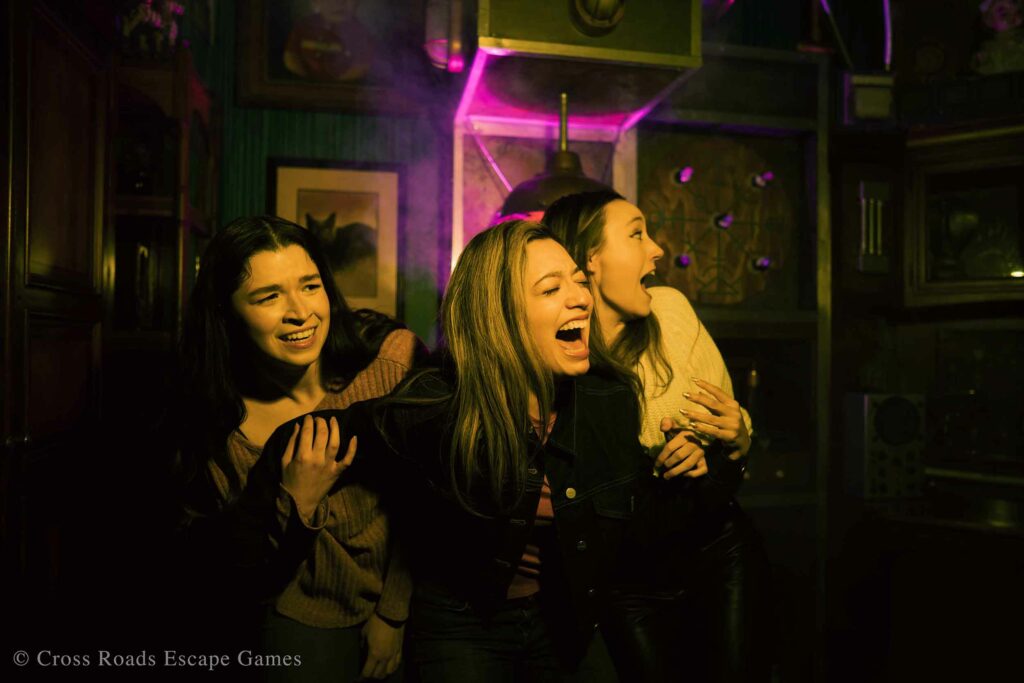 One of my favorite parts of the game is the detail in the room. Ruby's study is warm and cozy until it's not. An eclectic mix of strange and occult items, steampunk machinery, and a psychic parlor can instantly turn terrifying when the lights go out. And yes, they will go out. Take a moment to look around at the collection of cursed objects- and see how many references you can find.
The Weeping Witch incorporates loud noises, flashing lights, theatrical fog, atmospheric scents, pitch-black moments, and a live actor. The actor will not touch you, but they can get pretty close to you.
Overall, I feel The Weeping Witch elevates a typical escape room with theatrical elements that bring the story to life. Further pushing The Hex Room's idea of actually playing out your own horror film scenario, The Weeping Witch really feels like you are in a horror movie with an undetermined outcome.
The Weeping Witch is now open at Cross Roads Escape Games. For 4-8 players ages 14+.