The Holidays are here again and for many, that means time off from school and work, lots of food, and visits from family and friends. Of course, when you have out-of-town visitors, you need to find something to keep them entertained.
I love playing escape rooms with my family. Since my brother and I are big escape room fans, it's almost become tradition to take on an escape room whenever we get together. My parents like to join us as well and, though my dad would say he doesn't really do much besides hold the clues, I really cherish when I get to participate in one of my passions along with my family.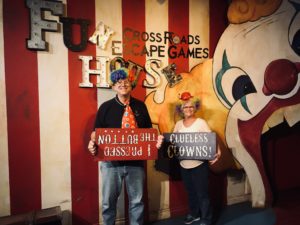 Bringing your family to an escape room is an exciting and unique way to spend time together, but you should be sure to pick the best game for your group. Here are a few tips to make sure you and your family have the best time possible!
Tip One: Choose A Theme
It's very important to find a room that everyone in your group will enjoy. Though you may love the intense rush of trying to survive a horror film, there's a good chance that grandma would prefer something a little less heart-pounding. Escape rooms like The Fun House are a great choice for families because they are light-hearted, appropriate for all ages, and provide fun thrills without any scares.
Tip Two: Choose A Difficulty Level
Unless you have a family of avid gamers and puzzle-solvers, I would recommend looking for games with an easy to medium level of difficulty. Rooms that are packed with puzzles are the best choice so everyone will have something to work on. Non-linear games are also fairly helpful for groups of mixed experience because players can work on multiple puzzles at once, ensuring everyone has something to do. You want to challenge yourselves so you feel accomplished, but you don't want a game so challenging your group feels overwhelmed.
Tip Three: Play For Fun
Everyone likes to win, but sometimes you have to accept a loss. When playing games with family, it's important to keep your cool and remember that you are playing an escape room for fun. Manage your expectations and just try to have the most fun you can have in the escape room. Remember that you are getting to spend time with your loved ones, solving puzzles and playing games, and that whether you escape or not shouldn't really matter as long as you're creating great memories. And if you do happen to beat the game? Well, that's just the icing on the cake.
Have you tried taking your family to an escape room? What was your experience? Leave us a comment and let us know!
Geoff Durham
Game Master, Manager
Cross Roads Escape Games