It's February, Valentine's Day is coming soon, and romance is in the air. To celebrate, our game masters thought they might channel their inner poet to deliver some escape room tips with a Valentine's Day flair. We may not be poets, but we sure do have a lot of love to give. Have a watch!
We believe that escape rooms are a great date night idea. They are a great way to go out and do something with your date where the two of you are able to interact and have fun. The two of you are actively participating in what is happening, as opposed to going to a movie where everyone has to remain quiet for the duration of the film. With escape rooms, you get to star in your very own live-action adventure!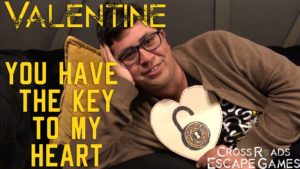 At Cross Roads we have three very different experiences. If you are seeking a date night game that is full of laughs, jokes, and has a silly and zany atmosphere, The Fun House is for you! It's a race against time as you try to prove yourself a Magnificent Magician. Fail to do so, and you earn the title Clueless Clown! This non-linear game is packed to the brim with puzzles but never fear; if you ever find yourself in need of help, there's an enchanted painting ready to help!
The Hex Room is a game for the more adventurous: you and your teammates will all find yourselves separated within the game, in need of working together to escape your own rooms and then the game completely. This is an intense horror game, perfect for thrill seekers and horror-movie fans.
The Psych Ward is a different type of animal. A blend of escape room, board game, and immersive theatre, the point of The Psych Ward is not to escape, but to win. At the start of your experiment, your group will be split into two teams. The catch? You won't know who you can trust. This is the perfect experience for fans of board games, strategy or deduction games, immersive theatre, or those who just want to experience the next evolution of escape rooms.
This year at Cross Roads Escape Games, we're trying something a little different. We're celebrating Valentine's Day with Singles Night: for one night only, our games will all be open to the public! If you've been having trouble finding enough friends to meet the minimum or are looking to make new friends, you can join a public game to try and conquer The Hex Room, test your deduction skills with strangers in The Psych Ward, or find a magical group of Magicians. Check out this blog post for more information.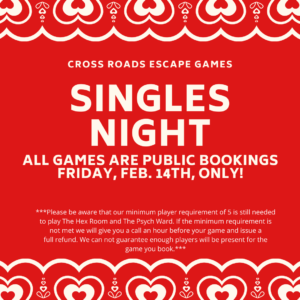 I hope you find something special to do this Valentine's Day, whether it be with a date or by yourself.
Geoff Durham
Game Master, Manager, Cupid's Little Helper
Cross Roads Escape Games