If you follow Cross Roads Escape Games on social media, you may have noticed that we've teamed up with THE STRANGERS: PREY AT NIGHT to offer a themed prize package including a black lantern flashlight, 'The Strangers' t-shirt, an entry for you and a guest to the advance screening in LA, and 2 free tickets to Cross Roads Escape Games. To enter, simply visit the contest post on Facebook, Twitter, or Instagram, leave a comment tagging your dream team of 6 for The Hex Room and your number one strategy on how you would survive a night with THE STRANGERS. The contest ends March 4th, 2018 and the winner of the giveaway will be chosen at random.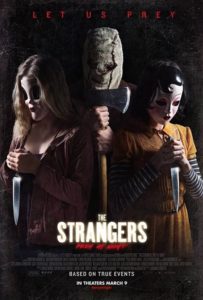 If you ask me, having experience with escape rooms would most definitely come in handy for surviving a night being stalked by The Strangers. In escape rooms, it is essential to keep calm under pressure, plan ahead, communicate with your team, and escape before it's too late. These same tactics could be applied to surviving the horror film. You would have to be one step ahead of the stranger, figuring out places to hide or escape that haven't been found yet; You would have to be able to make a plan but be able to adjust the plan in an instant if something changes; and you would have to keep the rest of your group on the same page so nobody is left behind and you have to go back to save them.
Looking over many of the responses we're getting, there are a lot of people who would take the escape room route: Elect a leader, work together, and think quickly. There are also those that take the more "horror-flick" approach and plan on running as fast as possible. And of course, my favorite plan, which is to just infiltrate The Strangers and become one of them. Which plan do you think would work best, or do you have a different plan completely?
When we were contacted about teaming up with The Strangers to offer a giveaway, I was beyond excited. The Strangers is one of my favorite horror movies of all time and I've been dying to see PREY AT NIGHT ever since they dropped the first trailer. Pun intended. To me, THE STRANGERS is a simple but effective home invasion film that packs a punch. The plausibility of the film lingers long after the final credits roll, and that insidious feeling of not being alone still haunts me every now and then.
Think you have what it takes to survive a horror film? Put your survival to the test in The Hex Room, where you are cast as one of six horror movie stereotypes and thrown into your very own horror film.
3/12/18 Update- We will be giving out free The Strangers: Prey at Night posters for the month of March for groups who successfully escape The Hex Room! Book your game now and try to win this exclusive prize!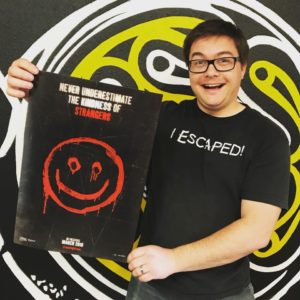 Geoff Durham
Game Master, Manager, Probably One Of The Strangers In A Mask
Cross Roads Escape Games