Each month we like to highlight one of our amazing team members and the outstanding work they do! For the month of January our Game Master and Manager, Geoff Durham, has gone above and beyond.
Have you had Geoff as one of your game masters at Cross Roads Escape Games? Lets get to know Geoff with some questions:
Q: How long have you worked at Cross Roads Escape Games?
A: I've been with CREG since December of 2016 as a Game Master and I became a manager in July of 2017.
Q: How many escape games have you played?
A: I haven't kept count, but it's probably somewhere around 20, if not more. One of the perks of being a game master is getting to experience a lot of other escape rooms!
Q: What is a unique hobby or interest you have?
A: I collect vinyl records. I really like colored vinyl, movie soundtracks, and electronic artists. It all started with the Donnie Darko soundtrack release from Death Waltz Recording Company many years ago and has become a large collection.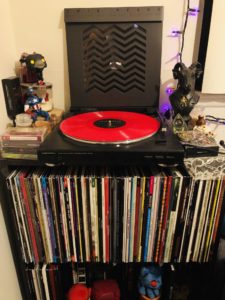 Q: What is your favorite game to Game Master and why?
A: I love being an orderly in The Psych Ward. Because of the game's design, every game is different, so I always get to do something a little different. I love when patients find some of the secrets hidden throughout the experiment and I get to have an interaction with them that most other people don't get.
Q: What is your favorite board game, movie, book, and TV show?
A: My favorite board game is probably Universal Monsters Horrified. I'm a sucker for those classic monsters (especially The Wolf Man), and I like that players work together rather than against each other. (I'm competitive and actually not that great at board games.) My favorite movie of ALL TIME is Tarsem's The Fall starring Lee Pace. Favorite book is American Gods by Neil Gaiman. My favorite TV shows are Bryan Fuller/NBC's Hannibal (or really, all of Bryan Fuller's TV shows. #RevivePushingDaisies).
Q: Without giving anything away, what is the funniest thing you have seen in a game?
A: One time I was supervising The Fun House when a group asked Zoltar for a hint. He told them he needed a joke in exchange, so the mother of the group blurts out a fairly scandalous joke that actually made me scream with laughter. I probably can't say it on here, but it was so unexpected that it caught me off guard.
Q: What is your favorite thing about being a Game Master?
A: I love watching when people solve a puzzle and they get really happy and celebrate that they figured it out. Those little victory dances are what it's all about.
Thank you for all of your answers Geoff!