Everyone knows that the best way to enjoy an escape room is to be fully immersed in the game itself. One way that escape rooms build up their immersion is by making their players a part of the game itself with costumes.
Most escape rooms will give you a vague background story to tell you why you need to escape the room. Are you an archaeologist finding lost treasure? A doctor trying to prevent a zombie infestation? Perhaps you are a bunch of circus performers just trying to prove that you have what it takes to be magnificent magicians? No matter the theme, you are always expected to step out of your shoes and take on the persona needed to be immersed in the room. But is someone telling you that you are a bunch of scientists really enough to make you feel like you are?
This is where costumes become vital! Nothing makes a player want to act like a bear more than putting a bear mask and bear claws in the room with them. You'll see an instant transformation in your players as they go from average people to buccaneers by simply giving them coats and a few pirate hats. By giving your players roles to play, it changes the experience for everyone and costume pieces help to start the transformation.
When players suspend their disbelief in an escape room it can become a more memorable experience. After all, spending an hour solving puzzles in a room makes for a good story, but actually partaking in a horror film is way more fun to talk about.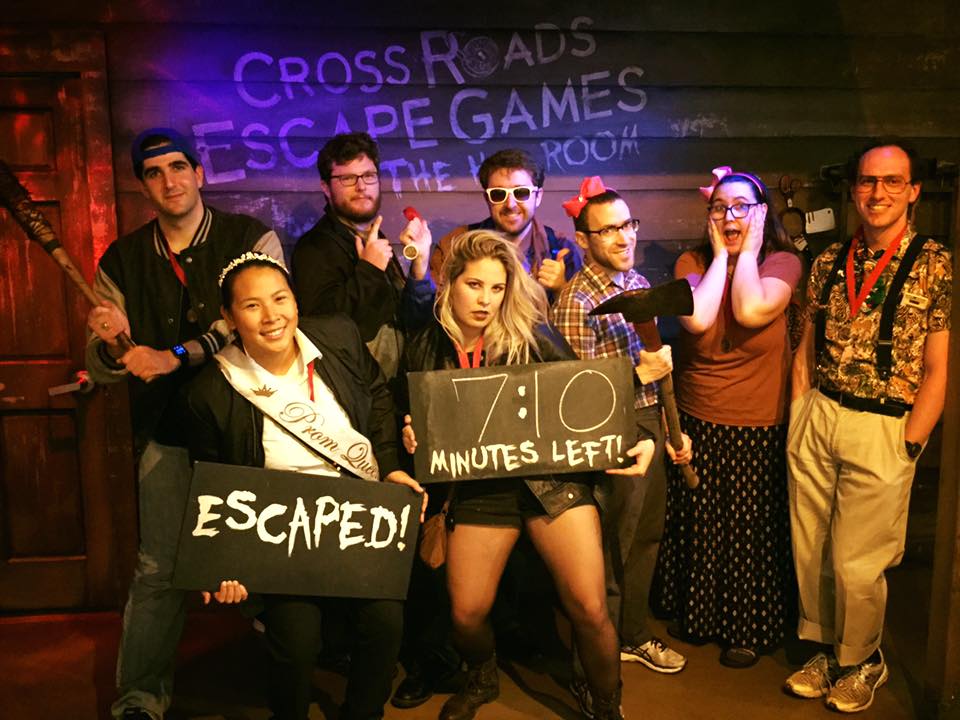 Aside from it being more memorable, it might also help your players get into the right mindset for the rooms puzzles. Costumes change how a player acts and can change the behaviors that the player takes first. Knowing this means that you can create a flow for the room to produce a certain experience. For example, if you put a player in a room with many different puzzles to choose from there is no telling where they are going to start. But if you give a player a lab coat and a stethoscope and put them in the same type of room, they will almost always start by using the stethoscope on a puzzle that fits with it.
In The Hex Room, players are cast as characters based on a personality quiz taken before the game. These characters are iconic horror movie stereotypes that you can recognize in your favorite horror flicks: The Nerd, The Jock, The Rebel, The Virgin, The Prom Queen, and The Detective. Sometimes, players will show up already dressed for their part as suggested by our online personality quiz.
We love seeing players come dressed as one of these characters, ready to take on the challenge of surviving a horror film. If you want to come dressed up, here's a handy guide to help you dress for you assigned part.
First, take the personality quiz. This online quiz will give you an idea of which stereotype you best fit, some identifiable characteristics, and an example from a horror movie.
Talk with your group. You may have gotten The Nerd on the quiz, but are you the nerdiest one in your group? Your character might change based on the people you play with, so make sure you talk with everyone and figure out which character best works for everyone in your specific group.
Dress the part. Whether you pull some well-loved clothes from your closet, break into your stash of Halloween costumes, or hit the nearest thrift store, there are a million ways to make you character unique and clear.
GET THE LOOK:
THE NERD: For a classic Nerd look, we opt for a nice button-up shirt (with pocket protector, of course), a pair of plain slacks, and socks (crew-length, pulled all the way up). Finish off the look with some thick-rimmed glasses and a pair of suspenders. Make your Nerd more modern with some geek-themed pins or tucked-in geek graphic T-Shirt.
THE JOCK: For a cool and tough look, nothing screams Jock more than a letterman jacket worn over a plain T-Shirt with a comfy pair of jeans. Wearing your favorite team's jersey is also a great choice. Finish off the look with some of those black lines football players put under their eyes. I don't know what they're called, but I know they scream "jock!"
THE PROM QUEEN: The Prom Queen is all about looking good. Find an old cocktail dress, second-hand prom dress, or forgotten bridesmaid dress. Do your hair as high as possible and study a few makeup tutorials for an authentic look. For a more day-to-day look, dress in a pair of high-waisted jeans with a crop-top or blouse. We've seen a male version of The Prom Queen wearing some nice pants and a suit coat. We've also seen guys in dresses. There's really no wrong way to be the Prom Queen if you're dressing up and having fun. And don't forget the Prom Queen's most important feature: her attitude.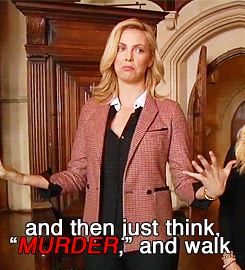 THE REBEL: For the iconic bad-boy look, grab yourself some black or dark jeans, a distressed t-shirt, and a leather jacket. Top off the look with a bandana tied around your forehead. Go for a more modern look with a distressed punk band shirt, ripped skinny jeans, and a scowl.
THE DETECTIVE: For the gruff and steadfast Detective, think "I've been on the force too long and I was going to retire later this year but I took this last case and turns out I'm stuck in this abandoned cabin with a bunch of teens and it's up to me to save our lives." Choose a button-up dress shirt, some sturdy workpants such as khakis or Dickies, a practical pair of shoes, and finish off the ensemble with a tie and hat. Bonus points for wearing a trench coat and only talking in a grumble.
THE VIRGIN: Think "Babysitter." A comfortable pair of trousers (clean, freshly pressed) or high-waisted mom jeans can be paired with a pretty blouse and pastel sweater vest. It's important for the look to scream "INNOCENT," so top it off with a pretty bow and subtle necklace. If you're approached by parents on the street asking if you can watch their kids, you've done it correctly.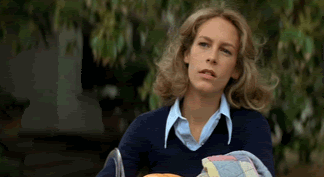 These are just a few of our style tips. We'd love to see what you come up with! There are always variations to make and we have just as much fun seeing you come in costume as you do dressing up. Still not sure what to wear? Not to worry! We will provide each player with their own costumes to make sure they really get into character.
Remember that no matter what you wear, you should be prepared to move around. The Hex Room is a physical game and closed-toed shoes are recommended. Please be aware that although we will do our best to cast you as the character you dress as, restrictions amongst your group might require some players to switch.
Enjoy some of our favorite photos of players really getting into character!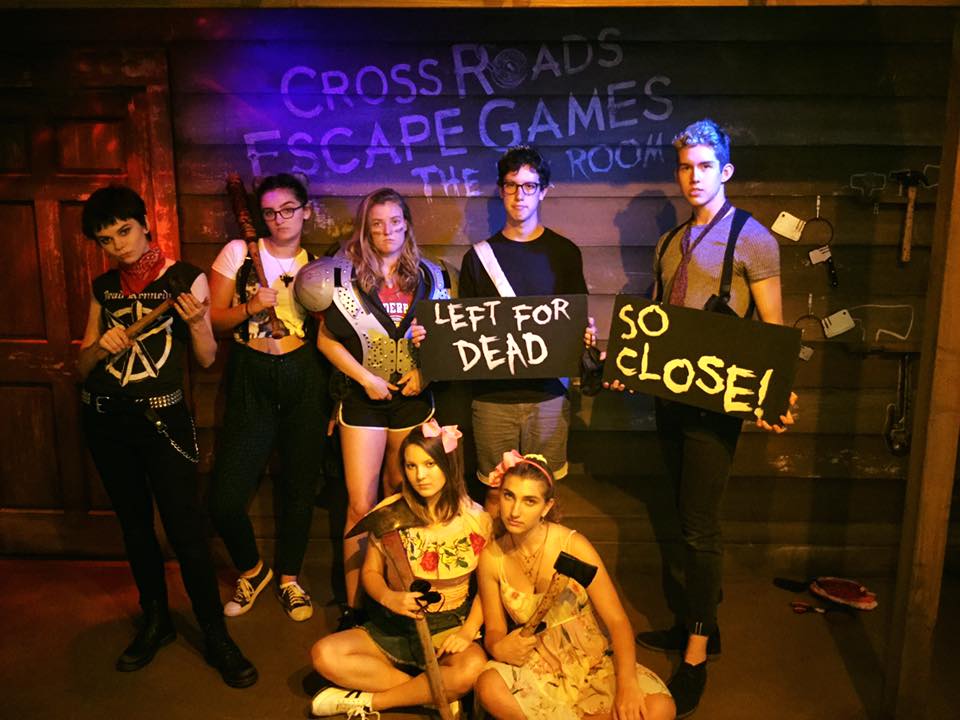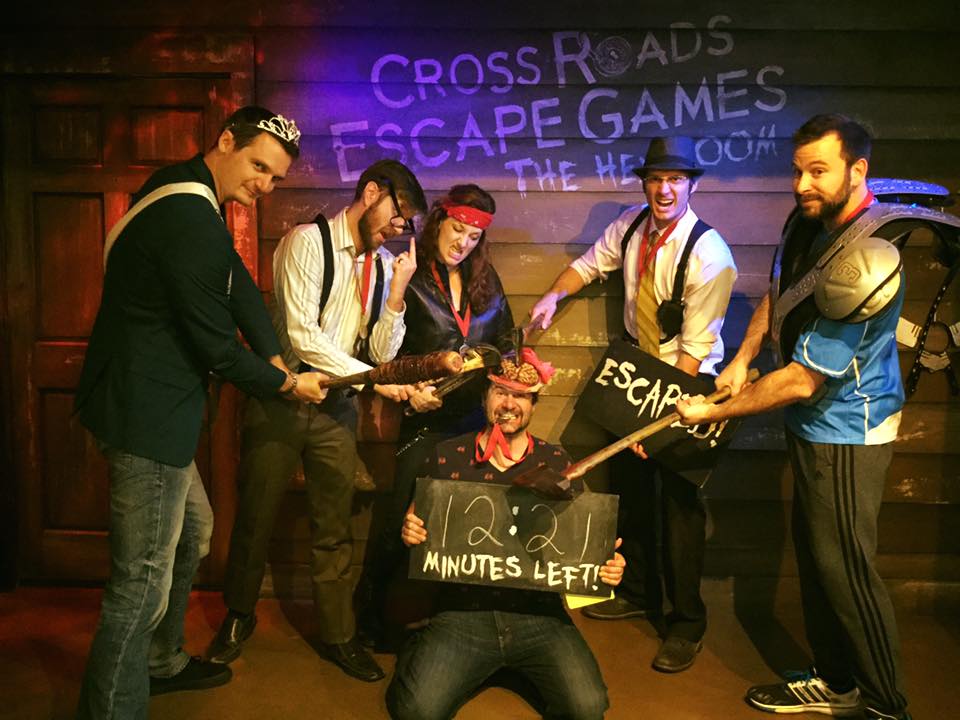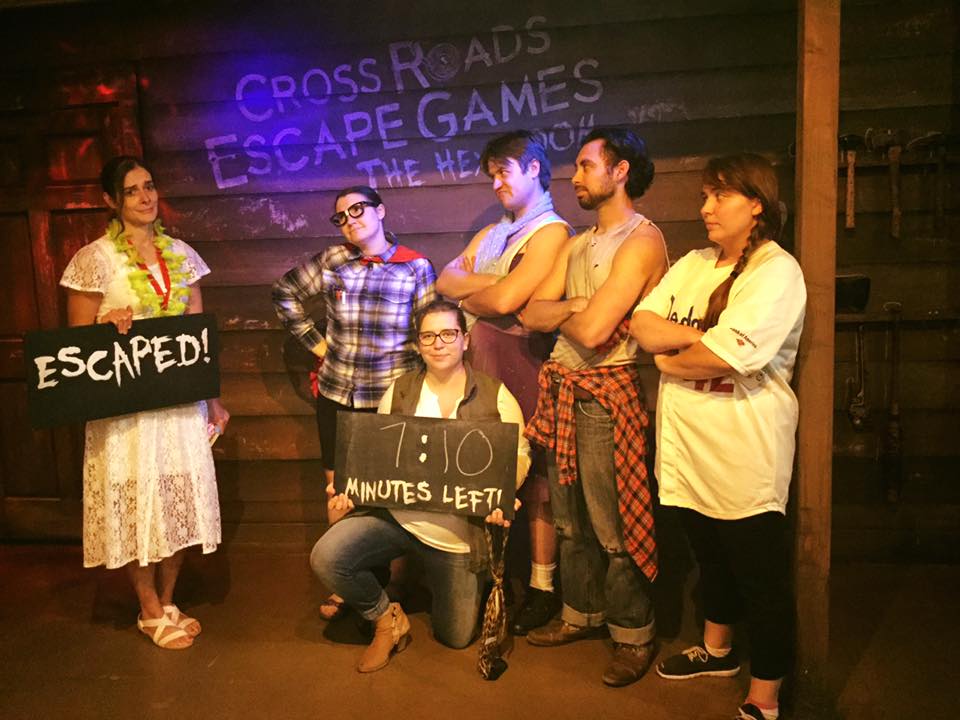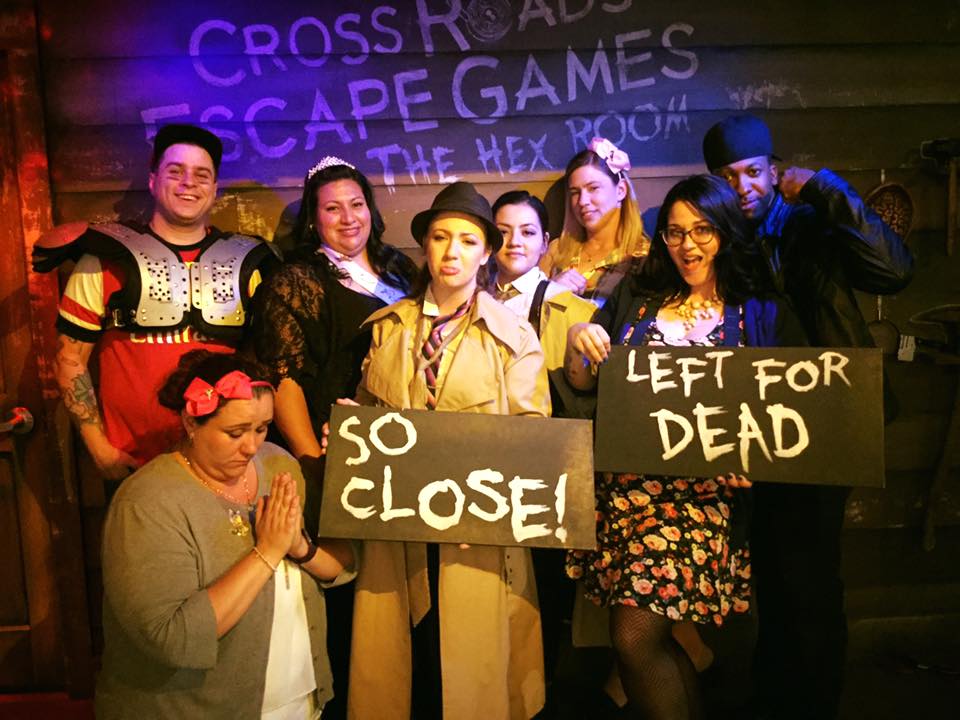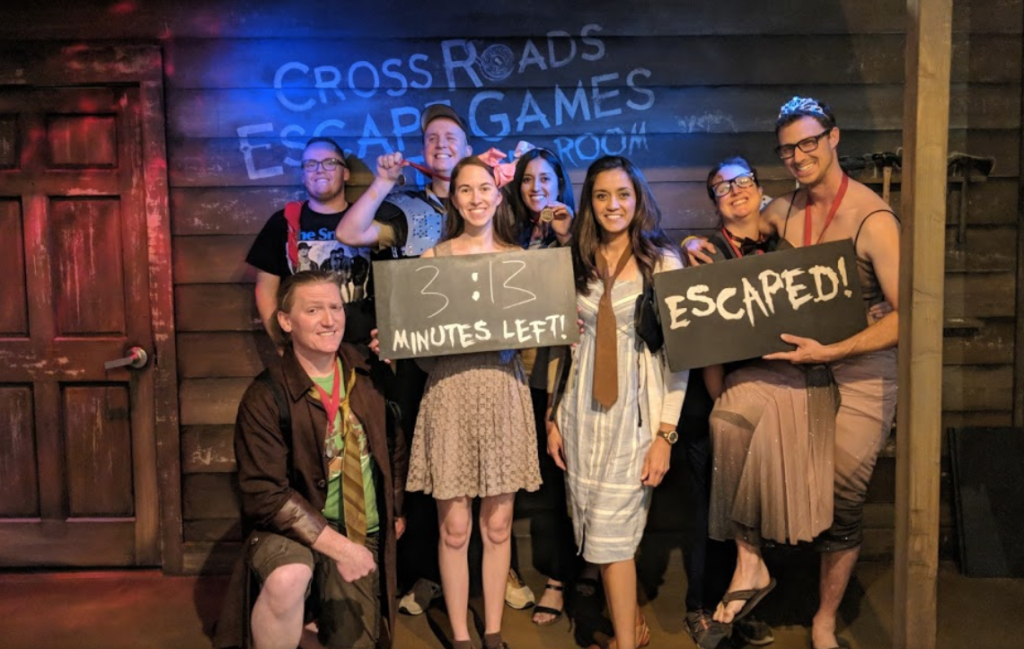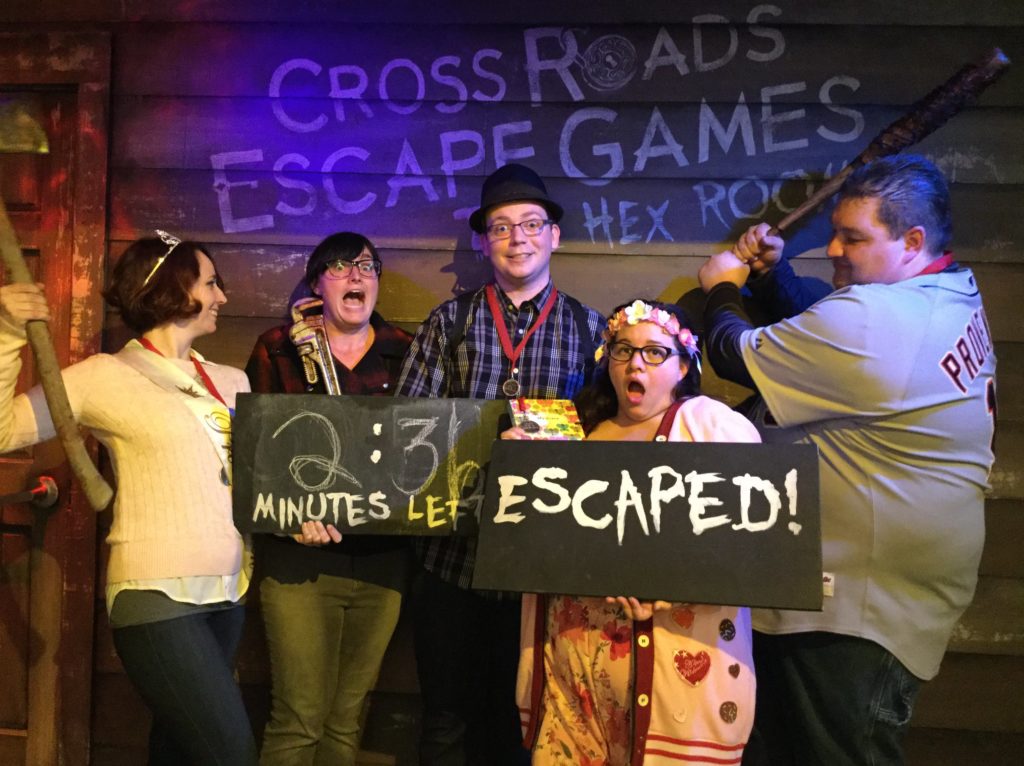 Geoff Durham
Game Master, Manager, The Betsey Johnson of Escape Room Fashion
Cross Roads Escape Games