"Could you survive a horror film?" This is a question that horror movie fanatics ask each other all the time. It's fun to sit around and joke about which of us would make it and which of us would fall victim to the killer's nefarious plot. However, when the SAW series first made its debut on the silver screen in 2004, many horror movie fans found themselves slack jawed when asked if they had what it takes to survive?
SAW redefined what it would take to survive a horror film. No longer could we survive by simply avoiding horror film clichés or by enduring until help arrived. Suddenly, there was a time limit on our survival and in place of some supernatural monster, we found ourselves trapped in a room full of torturous contraptions with a sadistic game to be played. Instead of being a passive victim, we were forced to actively find a way to survive.
Though the idea of being locked in a room, building, or house was not new to horror films, SAW quickly became the first thing on peoples' minds when horror escape rooms started gaining in popularity.
The Hex Room, though less deadly (and requiring less physical harm), offers players a similar experience to living one of the SAW movies; you are trapped in a room with a set of clues that you must solve within the time limit or you lose. It was only natural that the promoters of the movie JIGSAW would team up with Cross Roads to promote their new movie, in theaters October 27! For the month of October, any group that manages to escape the Hex Room will get a free JIGSAW poster while supplies last.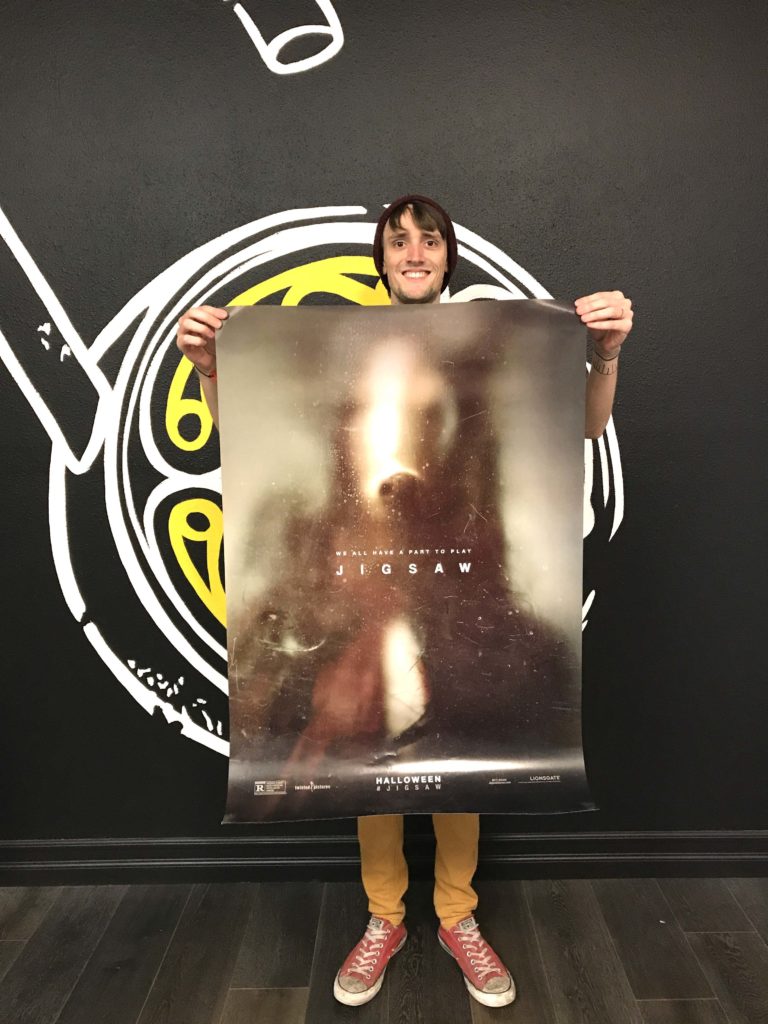 In an additional giveaway, if you comment on our official social media posts on Twitter, Instagram, or Facebook and tag 5 friends that you want to see JIGSAW with, you will be entered to win a special JIGSAW prize package, including a T-shirt, playing cards, a syringe pen, and tickets to the film! Want to stack the odds in your favor? Comment on all 3 social media sites! The winner will be chosen at random on October 23rd.
Do you want to play a game? You can see if you have what it takes to survive a horror film with The Hex Room at Cross Roads Escape Games, perfect for the Halloween season.
About the movie: Thirteen years ago on Halloween weekend – SAW and the character of JIGSAW introduced the world to a new face of horror. For seven straight years "If it's Halloween it must be SAW" was a holiday tradition. This October 27… Lionsgate and Twisted Pictures proudly present JIGSAW! After a series of murders bearing all the markings of the Jigsaw killer, law enforcement find themselves chasing the ghost of a man dead for over a decade and embroiled in a new game that's only just begun. Is John Kramer back from the dead to remind the world to be grateful for the gift of life? Or is this a trap set by a killer with designs of their own?
Jason Sakal
Manager & Game Master
Cross Roads Escape Games