Hello everyone! My name is Madison and I am the Co-Owner and Creative Director of Cross Roads Escape Games along with my husband, Luke. I wanted to share with you an update as to how we are handling this time being closed and what new operating procedures we will be implementing to keep Cross Roads Escape Games a safe place to visit.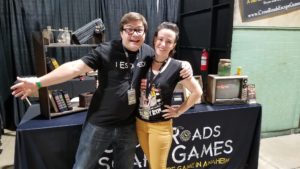 First, I want to thank everyone who was very understanding about us having to cancel their upcoming booking with us. And we really appreciate those who were willing to take a credit code over a refund. I also want to thank those who purchased a gift card from us during this time. We really appreciate all the help and support our community is showing us.
Currently, we are under a government mandated closure until further notice. We are watching the news and constantly checking to see when we may be able to reopen. We want to make sure it is safe to open, and we are not putting our employees or customers at risk. We will be reopening as soon as we receive word that gatherings of up to 10 people are permitted. 
Our last day of operation was March 15th, which was also first day of our March Madness Escape Room Tournament. Sadly, we did have to cancel that tournament but many of the businesses who sponsored a prize are willing to work with us again on a future event, so hopefully we will see a similar event again soon.
In a previous update at the beginning of March, we mentioned that The Hex Room was going to close for a period in April to allow for a revamp. Unfortunately, the revamp is postponed for the time being. With other companies closing we are finding it difficult to get the equipment and supplies that we need. We also want to make sure we have the funds to support ongoing business expenses for as long as we may be required to close. 
Upon reopening, we are implementing new operating procedures to make Cross Roads Escape Games a safe environment for both customers and our employees. A few steps we will be taking are:
Groups will never come in contact with another group. We will have less available games per day to insure that the lobby is never shared by two different groups. The lobby will be cleaned between every group.
Longer resets, to allow ample time for sanitizing the games between use. Game Masters will have a full hour to reset and thoroughly clean all props, locks, and surfaces between

every

game using medical grade disinfectant. 
Hand sanitizer will be available throughout the building for 

customers

 and employees. All customers will be required to use hand sanitizer or wash their hands in the bathrooms before entering the games. 
Employees will be provided with a washable cloth mask.  Masks will be required to be worn around customers at all times. 
Props and costumes considered unnecessary to the game will be removed. To help prevent contamination, only necessary items will be in the game. 
We appreciate you being a loyal customer and we will continue to bring you high quality immersive entertainment. Because of your support over the years, we will be opening again soon.
Sincerely,
Madison Rhoades